Need Help Hiring Moving Companies in Boston? I Got You Covered
Boston, Massachusetts, is home to the Boston Celtics, Boston Bruins, and Boston Red Sox; no, the New England Patriots are based out of Foxboro, so they don't really count. So along with having a rich history of success with professional sports, and of course, I can't forget the Boston Marathon, Boston is known for having some of the best colleges in the world with Harvard and MIT (Cambridge is close enough), a rich history including historical events like the Boston Tea Party, figures like JFK, and oh so much more.
So, as usual, let's be real about this. Despite playing a small role in one of the best cities in the world, moving companies in Boston have always played an important role in the background, helping to keep the city moving forward. So today, I wanted to show my respect and appreciation to six of the best moving companies in Boston.
Gentle Giant Movers, Stairhopper Movers, Husky Movers, Death Wish Piano Movers, Wood Wizard Things, and AdamHelper are among the best moving companies in Boston. Read on to get to the list.
But first, especially here in Boston, moving can be daunting, whether you're a college student moving into a dorm, a small business owner relocating your office, a parent helping your college-bound child move, or a homeowner needing furniture moved within your house or delivered. While the prospect of saving money by doing it yourself may be tempting, there are several compelling reasons why working with professional moving companies is often the smarter choice. Today, we'll explore three key reasons why individuals and small businesses should consider hiring movers and provide some valuable tips for finding the best moving companies in Boston if you don't think my list is adequate for your needs.
3 Reasons Why You Should Hire Moving Companies in Boston
1. Save Time and Energy
One of the most significant advantages of hiring professional movers is the time and energy you'll save. Moving involves more than just packing and unpacking; it requires careful planning, heavy lifting, and logistical coordination. When you opt for DIY moving, you may spend days or weeks tackling tasks like disassembling furniture, renting a truck, loading and unloading, and navigating unfamiliar roads – think Storrow Drive!
Professional movers, on the other hand, are experts in their field. They efficiently handle all aspects of the move, leaving you with more time to focus on other important matters. Whether you're a busy college student trying to balance classes and moving or a small business owner juggling multiple responsibilities, professional movers can take the burden off your shoulders.
2. Ensure Safety and Protection
Moving heavy and fragile items can be risky, especially if you lack experience and the necessary equipment. DIY moves often result in accidents, injuries, and damage to your belongings or property. Professional movers are trained to handle items of all sizes and shapes safely. They have the right tools, equipment, and techniques to protect your possessions throughout the move.
Additionally, any reputable moving company in Boston will offer some sort of insurance option to provide extra protection for your belongings. This ensures that in the rare event of damage or loss, you'll have recourse to recover the value of your items. This peace of mind is invaluable, especially for parents of college students who want to ensure their child's belongings are safe during the move.
3. Cost-Effective and Efficient
Contrary to popular belief, hiring professional movers can be cost-effective in the long run. When you consider the expenses associated with a DIY move, such as truck rental, fuel, packing supplies, and potential medical costs if an injury occurs, the costs can quickly add up. Moreover, the time and energy you save by hiring professionals can be redirected toward income-generating activities for small business owners.
Professional movers often offer competitive pricing, and their efficiency can help minimize the overall cost of the move. Furthermore, they can provide accurate quotes upfront so that you won't be hit with unexpected expenses.
4 Tips for Finding the Best Movers
Now that you're convinced of the benefits of hiring professional movers, here are some tips for finding the best ones:
Research and Compare: Start by researching local moving companies and comparing their services, reviews, and prices. Online platforms like Yelp and Google can be valuable resources for finding customer feedback.
Ask for Recommendations: Seek recommendations from friends, family, or colleagues who have recently used moving services. Personal referrals often lead to trustworthy companies.
Check Credentials: Ensure that the moving company is insured and, if needed, even accredited by relevant organizations. This guarantees their professionalism and commitment to quality service.
Get Multiple Quotes: Don't settle for the first quote you receive. Contact several movers to get a range of estimates and choose the one that best fits your budget and needs.
Best Moving Companies in Boston
Here is my list of the best moving companies in Boston for 2023 and 2024. This list is based on reviews and reputation, along with my customer's feedback and my interactions with them while out working and crossing paths.
Many might consider Gentle Giant, the best moving company in the country.
Stairhopper Movers is another full-service moving company that has continued to go pretty hard this year.
Wood Wizard Things is a small company that specializes in piano moves and paint jobs.
Another Boston moving company that only focuses on Piano moves is Death Wish Piano Movers.
Husky Movers is a small moving company with big capabilities. Ryan can pretty much turn into MacGyver and fix anything.
When it comes to quickly punching out a small apartment move, couch deliveries, or your furniture assembly needs, I think I'm among the best moving companies in Boston. And some might say it's easy to talk the talk, but my reviews from repeat and new customers back it up! Check out my Testimonial page or go directly to my Google Reviews, for example.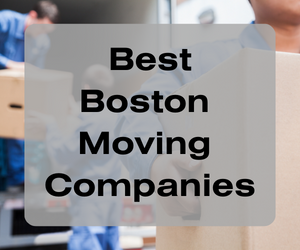 Selecting the Best Moving Companies In Boston for Your Needs
So it's pretty clear why working with professional movers offers numerous advantages, including time and energy savings, safety, protection for your belongings, and cost efficiency. Whether you're a college student, small business owner, parent, renter, or homeowner, hiring movers can make your next move smoother and less stressful. By following these tips and using this list as a starting point, you can find the best movers to meet your specific needs and ensure a successful moving experience.
All of that said, and since you're here, don't hesitate to contact me if you need help with any small moves, furniture assembly, delivery jobs, or even finding the best moving companies in Boston for your specific needs since, for example, I don't provide piano moves and that might be what you need.
I hope this has been helpful when it comes to finding the best moving companies in Boston, and I'll see you on the next move!
*Need help with a small Boston to New York move? Not a problem, as you can see from this moving job.